Dynamic Emotion Models
The ultimate goal of this project is the development of a dynamic model to predict emotions from physiological data. To do so, we will record your signals (heart rate, respiration rate, skin conductance, and electroencephalogram) during a controlled and non-invasive experiment where you will feel different emotions.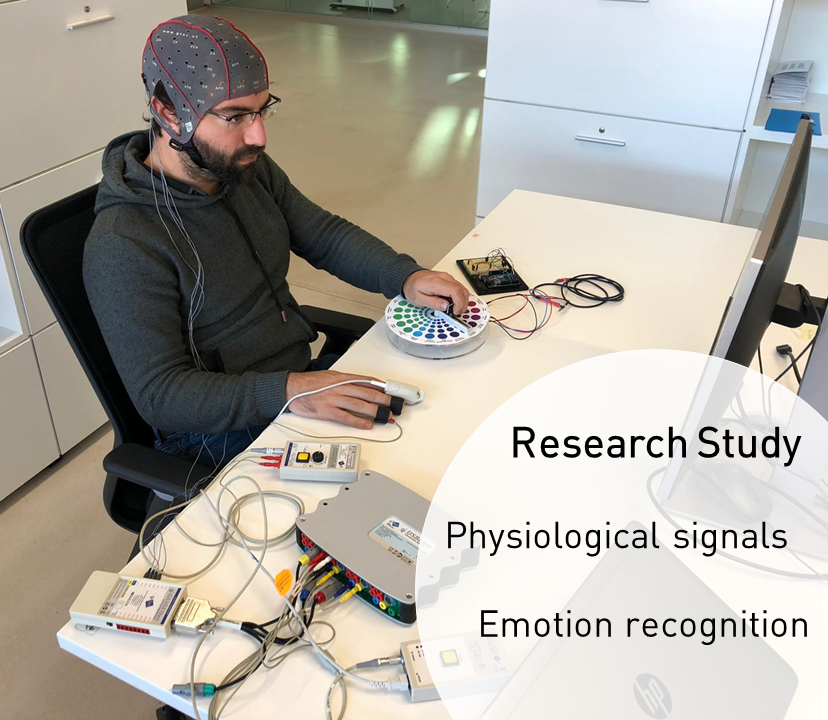 Relevant information:
Who can participate? We are looking for healthy adults (over 18 years old) whose mother tongue is either Italian, German, or English.
What is expected from you? The experiment consists of two different parts: an initial pre-screening in which we assess if you fulfill our inclusion criteria, and the experiment per se. In this second part, your electrophysiological signals will be recorded while you will observe images with the aim to elicit different emotions.
Where would you have to go? The first part (pre-screening) will be done online, so you can do it wherever you like. If you meet the criteria to proceed to the next stage, we will invite you to come to NOI Techpark (Via Alessandro Volta, 13, 39100 Bolzano BZ).
Are you worried about risk during COVID-19? Our team will take precautions to protect you and also the researchers. We will adopt the measures of hairdressers and beauty centers, since we are in a similar interaction with you. In this sense, we will wear a mask, a face shield, and gloves. We will ask you to disinfect your hands on your arrival and to wear a disposable apron. We will also measure your temperature on your arrival. Finally, we are going to disinfect the devices and furniture before you come to the lab. We are concerned about your safety!
Please find more information about this project in the links below.
Are you interested in participating in this study?
If you still have any questions, please do not hesitate to contact Isabel Barradas (contact details: isabel.barradas@unibz.it, +39 0471 017847).
---
Photography: credits NOI Techpark/Daniele Fiorentino